How the great brand handbag that changed the world HOPALONG CASSIDY LUNCHBOX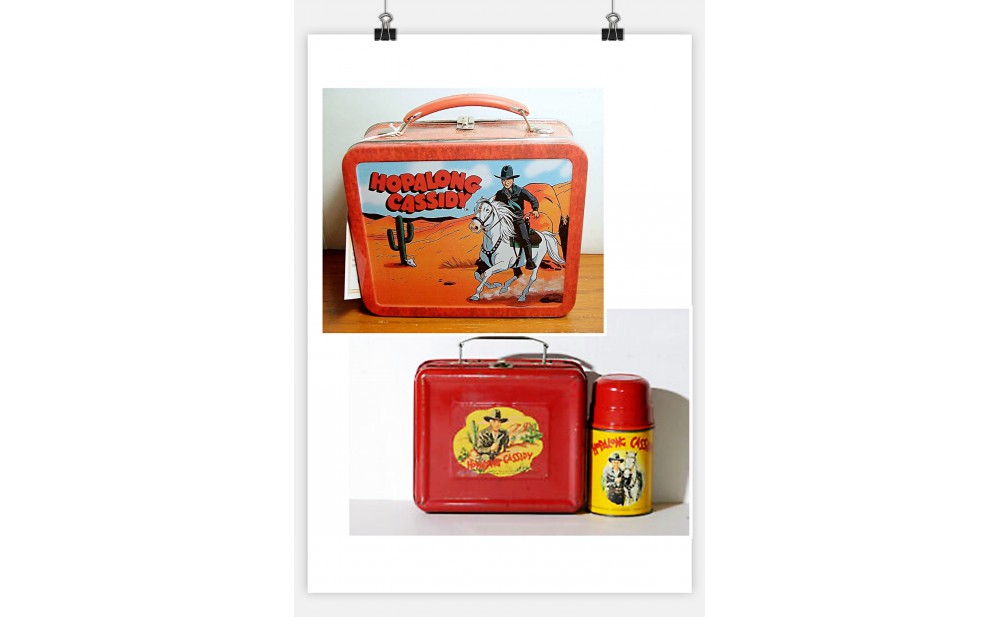 How the great brand handbag that changed the world
HOPALONG CASSIDY LUNCHBOX
During the early 1950s Hopalong Cassidy was the hero of a hugely popular American TV series – a clean-cut cowboy who never swore and who spread wholesome Americvan values throughout the West. Its star, William Boyd (1895-1972), who owned the rights to the name, was quick to capitalize on the success of the series, licensing a welter of "Hoppy" – themed merchandise, from roller skates and wristwatches to a humble children's lunchbox.
The lunchbox had been a staple of American life since the mid-nineteenth century-a phenomenon of the industrial age in which workers had to eat their lunch in the workplace. 
Early versions were essentially small woven baskets, but more durable tin (and later aluminium) versions quickly became the norm.  During the 1920s and 1930s manufacturers increasingly marketed products directly at children, and in 1935 it was Disney's Mickey Mouse who inevitable became the first licensed character to appear on the side of a children's lunchbox.
The red-and-blue Hoppy lunchbox was a runaway success.  Priced at $2.39, some 600,000 units were sold in the first year alone.  The eventual fate of the children's
Metal lunchbox was less happy.
 In 1972 the Florida legislature-and subsequently those of other states-banned the metal boxes because children had been using them in playground fights.  Hopalong Cassidy would never have approved of such behaviour.