HISTORY OF VINTAGE HANDBAG 1948s – Mix "n" Match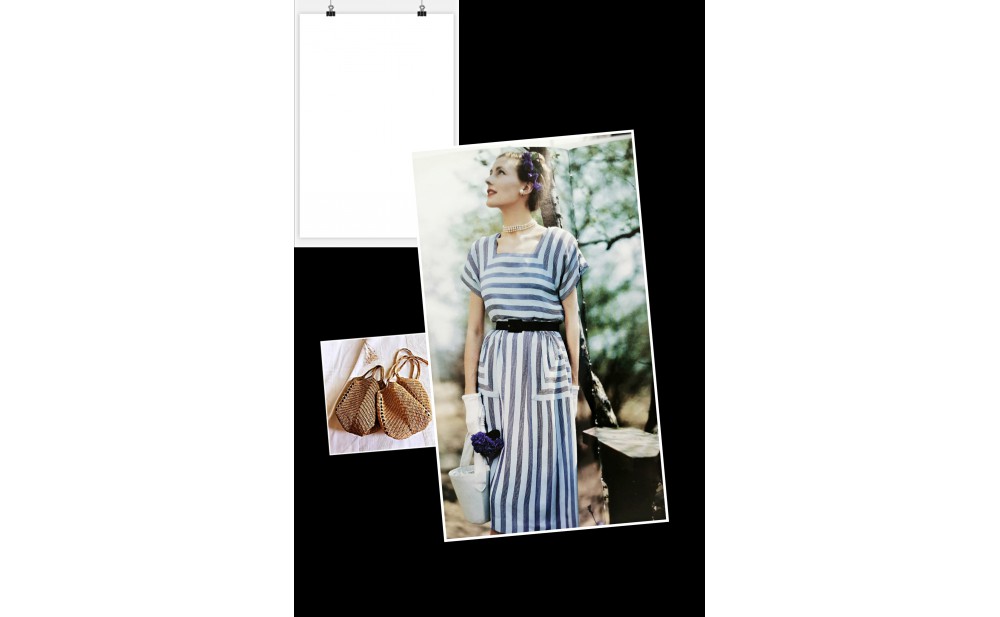 HISTORY OF VINTAGE HANDBAG
1948s – Mix "n" Match
American fashion was developing a flourishing ready-to-wear industry of its own, and moving away from the influence of the European couturiers.  Clare Potter, one of the first American designers to be known to the public, commented in the 1948 book Fashion is Our Business by BeryI Williams Epstein.
Homespun Handbags
In America, the homespun delights of gingham and denim were appropriated by the trend for "peasant" clothes: blouses with drawstring necklines and puffed sleeves and dirndl skirts. 
Handbags reflected this use of simple materials, rustic charm and naïve influences.  The Sears catalogue of 1937 displayed brightly colored ceramic and wood-beaded bags with the slogan:" They're smart, they're practical, they're easily cleaned!"
The attraction of the homespun also embraced the exotic, particularly the naïve arts south of the border, a look popularized by the American designer Louelle Balleriana.
She was renowned for her "adaptation of a rich variety of authentic native designs and influences which give her California-made play clothes a gay wear-ability". 
Wood and cork not only appeared on shoes, but embellished her clothes and handbags.  Her 7breakthough was a dress of rough hopsacking with a wide, turned-down collar embroidered in bright-colored wool, and a wide skirt decorated with a broad band of yarn figures embellished with squares of wood sewn into the embroidery.
Straw, raffia and wicker baskets were also embellished with applique and embroidery.  A design influence was the "Bombshell from Brazil" Carmen Miranda.  Part African, part Brazllian and known as the "Woman in the Tutti Frutti Hat", the celebrated samba singer was at the time America's highest-paid entertainer.
Her massive platform-soled shoes and fruit-embellished towering turbans introduced a Latin flamboyance into wartime fashion. Her multi-patterned sarongs and ruffled midriff-baring boleros provided a much-needed distraction from the austerity of the war.