HISTORY OF VINTAGE HANDBAG The Birth of the Tapestry Handbag 1930s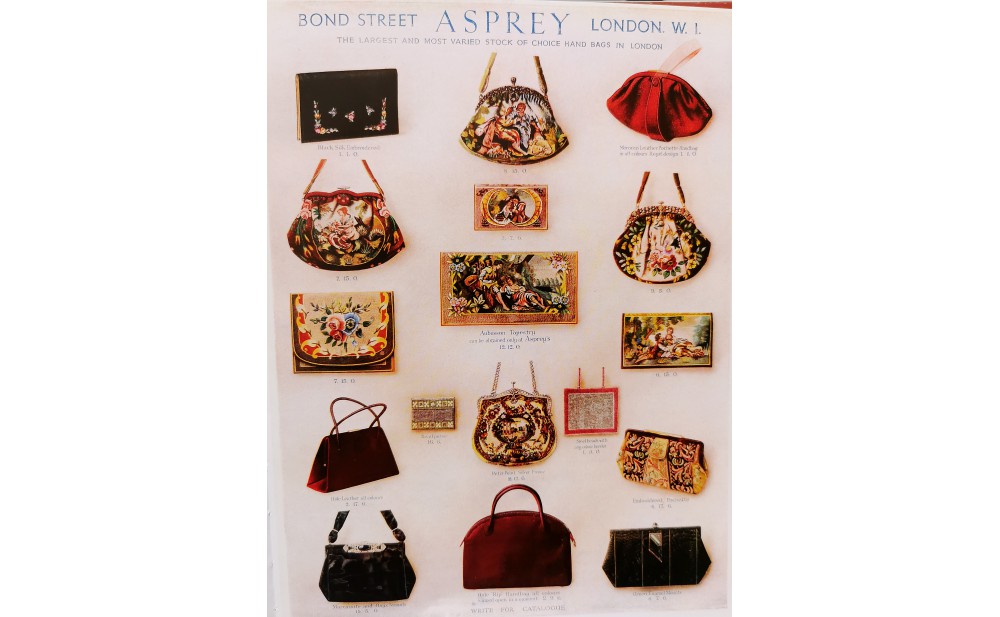 HISTORY OF VINTAGE HANDBAG
The Birth of the Tapestry Handbag 1930s
The applied arts flourished in the late nineteenth century and first decades of the twentieth century.  The Wiener Werstatte, the Vienna Workshop of 1903-32, was a juge influence on pattern design during this period.
  With its roots in the Arts and Crafts Movement, the studio progressed from producing exclusive furnishing fabrics to gradually introducing a broader range of products, including bags, Usually created from dark hand-crafted leather with gold tooled patterns, their designs eventually shifted away from the curvilinear forms of Art Nouveau to embrace th more formal stylization of Art Deco, described in embossed and color leathers. 
Fashion and art were inextricably linked for the Ukrainian artist Sonia Delauney.  Together with her husband, Robert Delauney.  Together with her husband, Robert Delauney, she was a significant pioneer of abstraction.
 Through her "color rhythm" paintings, first shown in 1921, the artist endeavoured to provoke a simultaneous response to form, color and movement. She peoduced "simultaneous" dresses printed with patterns of loosely painted geometric blocks of contrasting colors, which she described as "color scales".  In 1927, Sonia Delauney spoke of "The influence of Painting on the Art of clothes" at the Sorbonne in Paris
Tapestry Handbag
A more spontaneous approach to color was to be found in the work of the
Tapestry fabric, as well the avant-garde artists of the time, including a group of French painters call the Fauves, known for their uncontrolled use of violent, brilliant color. One of thes artists, Raoul Dufy, was introduced to a career in Tapesyry designs for the French weaving company Bianchini-Ferier. 
Dufy's strong graphic style, which was evidence of his earlier practice of wood engraving, encompassed a wide range of design in Tapestry fabric.
His fabric found their way into handbags that had a particular appeal to the 1930s bohemian set.