HISTORY OF VINTAGE HANDBAG 1940s Austerity and Innovation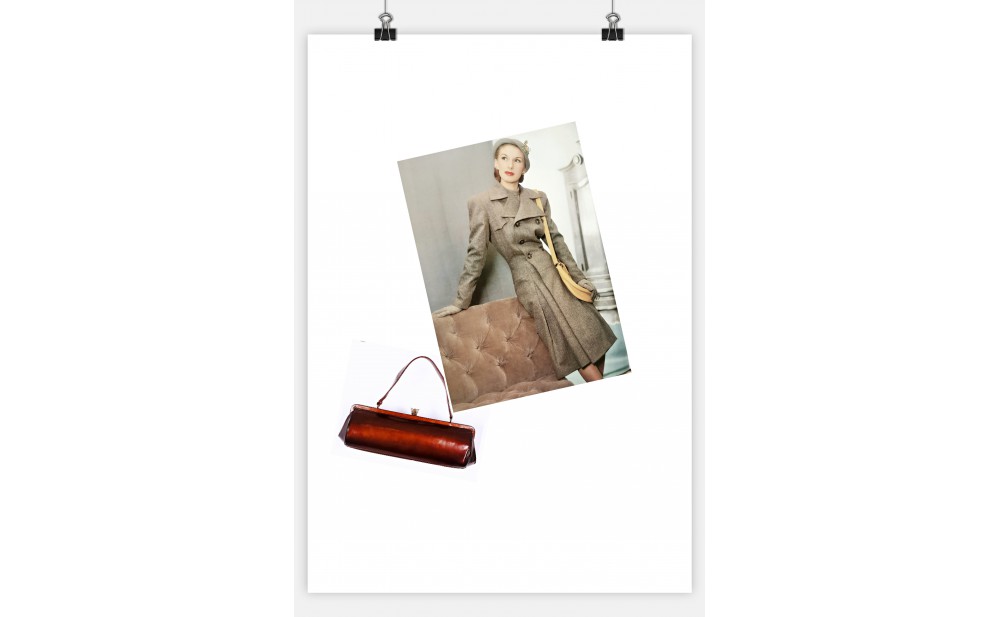 HISTORY OF VINTAGE HANDBAG
1940s
Austerity and Innovation
The austerity of wartime imposed a necessary no-nonsense attitude towards fashion.
The conscription of women in Europe and America made the look of the military uniform a familiar daily sight on the streets, and even civilians' daywear retained the practical features of clothes or by the armed services.  This included the handbag.
The embellished clutch and the exquisite minaudieres of the 1930s were surplus to requirements in war-torn Europe.
 A military-influenced satchel, with a sturdy strap and a buckled over-the-top flap, was worn with the sensible woolen suits of the day.  These comprised a short, neatly fitted tailored jacket with a squared-off shoulder line and narrow reveres, and a straight skirt to just below the knee, with a pleat at the back of ease of movement.  Such a silhouette was refined, even elegant, and when the suit was worn with an unadorned blouse and a felt hat tipped over a victory roll hairdo, the day look was complete.
The British Board of Trade issued a Civilian Clothing Order in 1942, forbidding the use of any extraneous detailing on garments, including fancy trimmings, decorative stitching, and pleats. 
No more than three buttons were allowed on a jacket.  Foremost designers of the day, including Norman Hartnell, Hardy Amies and Digby Morton, lent their expertise to the project and formed the incorporated Society of London Fashion Designers.
As well as designing the uniforms for the Women's Royal Army Corps, Women's Royal Naval Service and Women's Royal Air Force, the society produced a collection of basic items for the general public, including a coat, a suit, and various day dresses for the working woman.
Norman Hartnell, then holding a warrant of "Dressmaker by Appointment to Her Majesty the Queen", feared for his reputation in being associated with the production of clothes for women outside his normal clientele of actresses and the aristocracy.  In his autobiography, Silver and Gold (1955) her reports that on expressing his reservations, the Queen replied, "You have made so many charming